What are the foundations of my healing through art practices?
The foundation of my healing practice came from my strong connection to my years of practicing art and working with our people just engaging with the use of art. I saw how community and elders use the practice of art-making to tell their stories. Elders from the Stolen Generation were too traumatized to verbalize their trauma but told their stories through art. Even younger people were able to express themselves through art because art can be an unspoken language for those that cannot speak about their hurts.
Art is like medicine for the soul. Many years of research explored the therapeutic process that takes place when using the arts towards healing and have positive outcomes. 
Art Therapy
Creative arts therapy is an experiential psychotherapeutic approach utilising arts modalities within a relationship with a trained therapist, attending to emotional, cognitive, physical and spiritual well-being.  
'Art therapy is mostly about getting other people to know themselves through artmaking. The process of using materials, struggling with their inherent qualities and limitations, has been and continues to be a wonderful arena in which to work things out. (Allen 1995)
Art therapy improves the mental health of people who are dealing with addictions, anxiety, attention disorders, grief and loss, dementia, depression, eating disorders, physical illness, PTSD, trauma, relationship issues and much more.
Art therapy involves the use of creative techniques such as drawing, painting, collage, colouring, or sculpting to help people express themselves artistically and examine the psychological and emotional undertones in their art.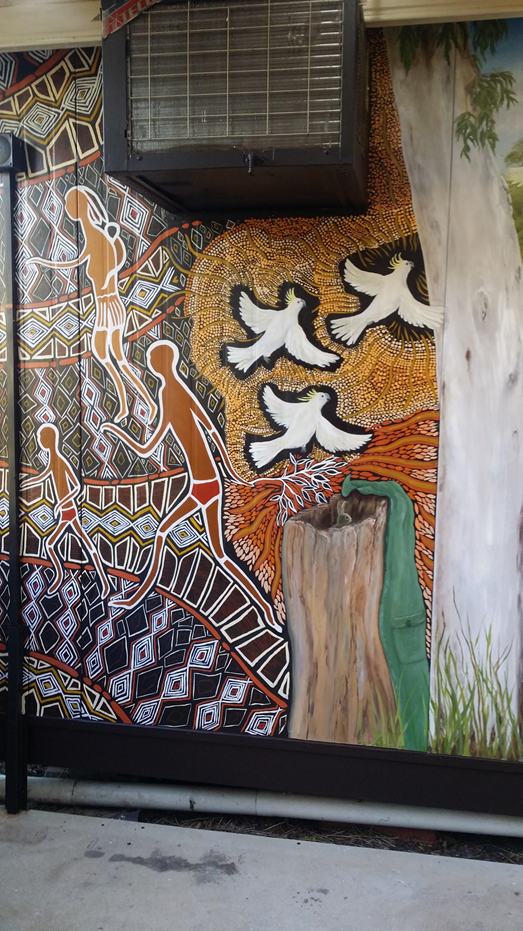 To enrich the lives of individuals, families and communities through active artmaking, creative process, applied psychological theory and provides a human experience within a psychotherapeutic relationship.
Improves mental health who are dealing with addictions, anxiety, attention disorders, grief and loss, dementia, depression, eating disorders, physical illness, PTSD, trauma, relationship issues and much more.
Reduce pains, decreases symptoms of stress and improves quality of life in adult cancer patients. It improves the ability to deal with pain and other frightening symptoms in children with cancer. It reduces stress and anxiety in children with asthma.
Ngardarb is an artist, an arts therapist and community development practitioner of the highest calibre. I have has the pleasure of working with Ngardarb over the last 10 years in all of her skill areas. We co-facilitated the Scattered Tribes arts group at community health service Cohealth, for First Nations people from across the West of Melbourne for over 6 years. This group brought together Elders, adults and young people to explore and heal through participatory arts practice.
Ngardarb held that space for the participants with a grounded and caring energy. Her strong connection to culture and knowledge provided an anchor for others who were members of the Stolen Generations and engaged in a long process of healing. As an artist Ngardarb is an accomplished painter and designer whose works grace a number of Cohealth's buildings as floor works, exterior works on buildings and framed paintings on walls. She is also an accomplished sculptor and book illustrator. As an art therapist Ngardarb worked with individuals and groups within the Brimbank Council area where I currently work as the coordinator of six community centres. Ngardarb played an important role during the COVID hard lockdowns in Melbourne during the winter of 2020, where she held space online to deliver art therapy sessions for seniors, new arrivals, parents and children. Her sensitivity and warmth combined with engaging individual and group therapeutic activities proved very beneficial to both my team and the communities she worked with. I look forward to continuing to work with Ngardarb.